Resumes
ResumeWriters.com Review

Resumewriters.com is an online resume writing service that selects the perfect writer to help you write a new resume or revamp your old resume. The writers are professionals and experts and know what the employers are looking for.
Service Review
Resumewriters is one of the highest-rated and oldest online resume writing services. They hire the best resume writers available to provide you with highly professional services. They have different packages, and you can select one of the packages as per your needs and requirements. According to several resumewriters.com resume writing reviews, they prioritize customer satisfaction.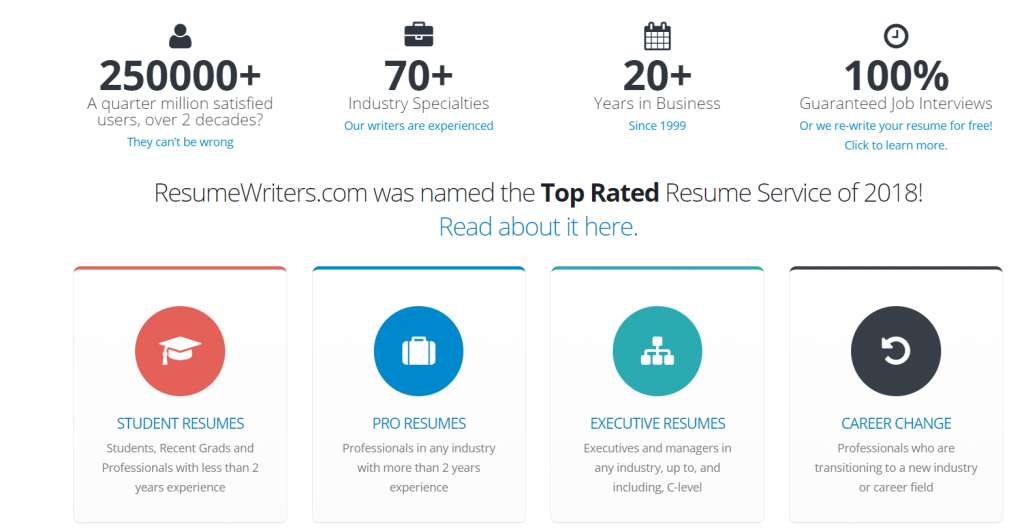 Topresume vs Resumewriters.com
With resumewriters, you can choose the specific service that you want. You can get various kinds of resumes specially tailored to your skills such as military resume, student resume, professional resume, Tech and IT resume, LinkedIn profile updates, etc.
You can get 4 packages that you can choose from according to your requirements with the cheapest package starting from $169.95 and the most expensive being $249.95. The resumewriters.com ratings are high as compared to that of Topresume, where several users complain of slow customer response and high rates for average quality work.
Pros and Cons
When we use online services, we are always scared that it might be a scam and we will not get good quality service. That is not the case with resumewriter.com since there are several positive reviews for this site, including high bbb resumewriters.com ratings.
Let's take a look at the pros and cons of this website.
Pros
An extensive list of services
Customized resumes
Cover letters, Resumes, follow-up letters
Rush service available
User-friendly website
No hidden charges
Excellent customer service
Prompt email communication with writes
Cons
No option for communication with writers via phone
No option for a federal resume
Guarantees
Another reason to trust this resume writing service is that they provide you with a multitude of guarantees. If you get your resume written from resumewriters.com, you get a 60-interview guarantee. Moreover, if you don't get an interview within the specified period, you get a free resume rewrite from the writing service. Couple this resumewriter.com guarantee with prompt customer services, and free revisions, and you will get the best resume writing service online!

Services
Resumewriters.com offers you various service ranging from student resumes to professional and military to civilian resumes. For this resumewriters free resume review, we checked out their writers and the services they provide, and we have to say that we are satisfied.
Student Resume Services
As students, the biggest dilemma after graduation is that companies don't hire people without experience. But how would you get the experience if you are not hired in the first place, right? The expert writers at resumewriters.com solve this problem of yours by creating your resume based on your personal characteristics and academic merits.
This helps you in landing a good job that helps you gain the experience while maintaining your account balance as well.
Professional Resume Services
If you have two years of experience and want to get a better job, you should use the Professional resume service by resumewriters.com. At resumewriters, you get a writer who has experience in the same industry as yours and has a complete understanding of what the employers are looking for.
With 72 hours standard turnaround and 24 hours delivery available in an affordable package of $199.95, we find this service to be extremely beneficial in the long run.
Executive Resume Services
If you are a manager or an executive in any business field, then this package is perfect for you. You get a one-on-one consultation with the most experienced writers available in the writing company. The rate of this package is $299.95.
Career Change Resume Service
The 4th package provided by resumewriters is the career change service. This writing service likes to take on challenges and sees the work through to completion. If you are looking to shift careers, it is hard to get a good organization to hire.
The competent writers at resumewriters.com help you with this major change in your life. We found the price of this affordable as well when compared with the quality of the service they provide and all the perks that come along. We didn't find any resumewriters.com complaints which ensure that this is an authentic writing service.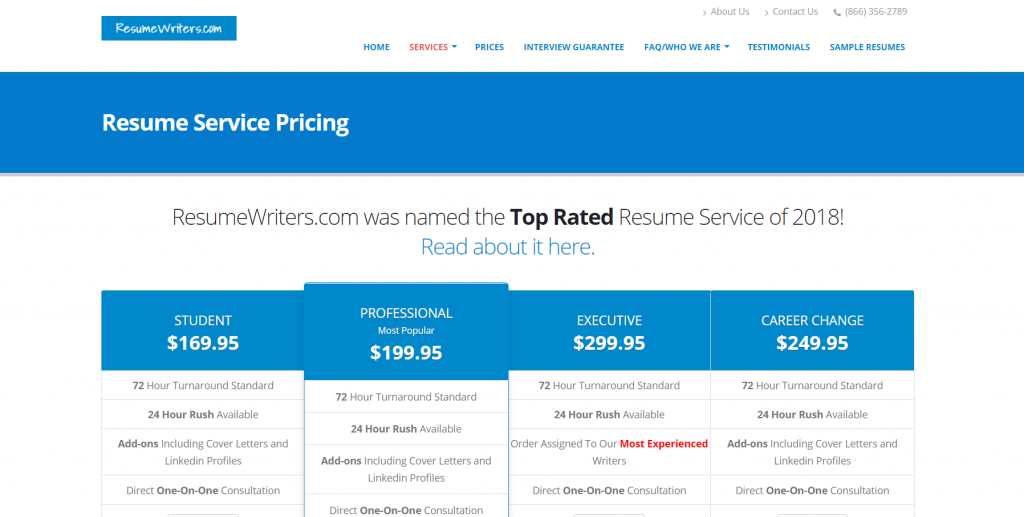 Support
One thing that makes or breaks an online service is their customer support team. A good customer support team ensures that the customers don't face any problems, and even if they do, they are resolved in a very short time frame.
The support team of resumewriter.com is solid. The customer services representatives pick up the call at the phone number provided very quickly. However, they have specific working hours which means you cannot call them anytime you want. You have the option to send an email, and you will get a quick response from the team within a short couple of hours.
Conclusion – is resumewriters.com Legit?
A good resume makes or breaks your career. No matter how many jobs you apply to, no matter how many hours you spend preparing for the job interview, if your resume doesn't reflect your potential, it is very likely that you will not get a good quality job.
Many of you are asking is resumewriters.com safe, and we have to say this: Yes, it is a safe and secure writing service that you can absolutely trust. Resumewriter.com is a legit resume writing service that has been catering to the needs of people from all walks of life for over 20 years.
FAQ
What is resumewriters.com?
Resumewriters.com is a trustworthy writing service that has been around for 20 years and has several positive reviews under its belt. You get different packages and services, and you can choose one that caters to your needs specifically.
Is resumewriters.com reliable?
After thorough research, we have come to the conclusion that yes, resumewriters.com is a reliable online writing company. When you compare their prices with the quality of service they provide, you will find them to be affordable.
With a 60-day interview guarantee and free revisions, you can rest assured that your money will not be wasted.