Find My Profession Review

Visit site (FindMyProfession.com)
It's all too often that someone finds themselves out of a job. Layoffs, downsizing, and bankruptcies all occur in today's uncertain world, and that leaves people without employment all too often.
Back in the day, looking for a job meant opening up a newspaper or dropping resumes off at local businesses. Today, however, there are many more places to look for a job than there ever were before, which can also lead to the feeling of looking for a needle in a haystack!
Finding Work is Time Consuming
It's because of this that finding a new job is actually more of a challenge than it ever was before, not because there are fewer places to find postings, but because there are so many more. It's been said that finding work itself is a full-time job and that's very true today. Not everyone has the writing or online skills to do that, either.
Sometimes, a person may not have lost their job, but are looking for higher pay or positions. For them, looking for a new job is like having two full times jobs.

What's the Solution?
So, what does a person do when they don't have all of the skills or resources to find a new job? That's why we're reviewing FindMyProfession for all of those people looking for that new dream job.
There are probably plenty of Find My Profession reviews already out there, but we decided that this company deserved a closer look, as this is a field of specialization that we had not heard of before.
Find My Profession has committed itself to the relatively new task of allowing people looking for a job to access resources online that they might not otherwise have. In their activity, they also focus on executive and c-suite resume writing services. Find My Profession reviews also suggest that it offers people who are too busy to find that dream job a way of getting one without having to spend all those evenings and weekends in search. This is what they do in a nutshell: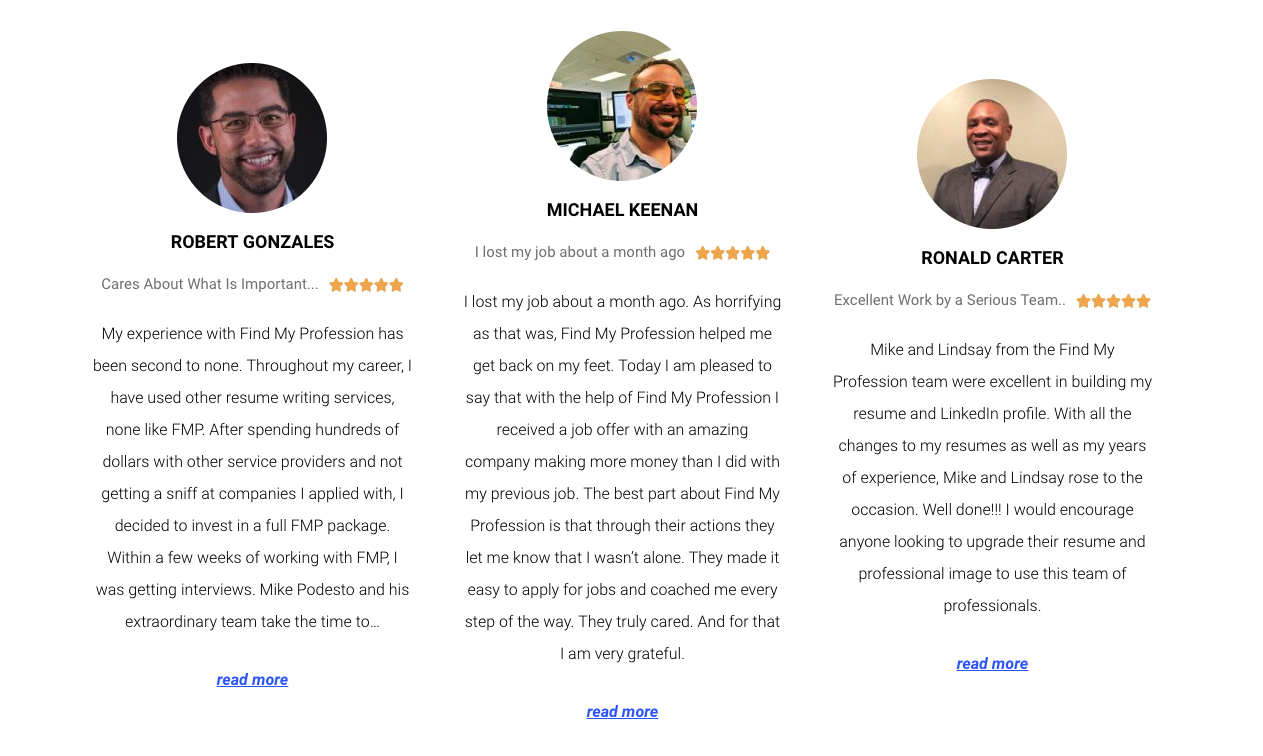 Resume and Cover Letter Preparation – The first step they take is creating a new resume for their clients. This may seem a little obvious as the first step, but it's also the most necessary one. The resume has always been what makes a potential employer decide on whether or not a person gets that important interview.

It's a terrible truth, but it's also why having a great resume is so very important. That's why Find My Profession concentrates on this at the very beginning. They get the necessary information from their clients and then construct a resume that is best suited for them.
This is where they have different packages to choose from. They know that a resume needs to be suited to the field they're applying in, and so, they have custom resumes for each one. The service will also draft a custom cover letter for their clients as well to ensure they get that phone call!
LinkedIn Profile – It's becoming more and more common to have a LinkedIn profile, and they will create one for their clients to ensure that they have the best chance of finding that ideal job.
Application Completion – Why go through the agony of filling out those application forms when someone else can do it for you? Find My Profession doesn't just find available jobs for their clients, they actually apply to them for their clients. Talk about going that extra mile! We have to admit that this one surprised even us!
Networking – Not everyone has the ability or time to create a big network of contacts for a job hunt, but others do, and that's what these guys already have up and working: a big net to catch those elusive jobs.
Interview Training – It's not uncommon for people to be a little finicky about interviews, and it's incredibly common for just about everybody to wonder what they'll say in one, as well. This is where Find My Profession has a little something interesting to add to the mix: interview training. According to Find My Profession reviews, They can coach people in how to handle an interview well, and they do it in the same mediums of actual interviews, such as e-mail, over the phone, or by video feed.

The Verdict
Overall we found that what this website offered did go that extra mile for those who need help in getting employment. Find My Profession is heavily geared towards people who either don't have the time to look for work, or they don't have the skills to do so. For those in such a situation, this service is definitely one is looking for! So, our verdict is a solid 10/10 for Find My Profession.