Resumes
ZipJob Review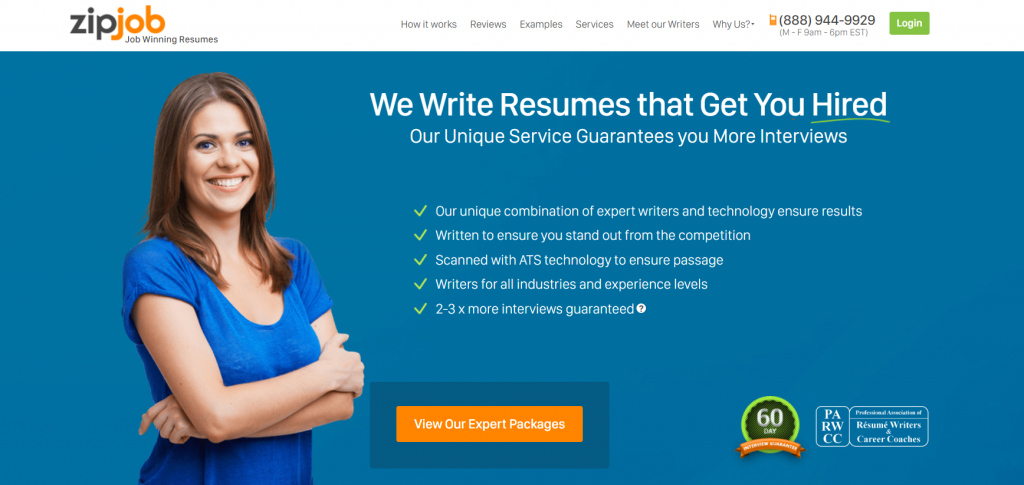 You are applying for a job. What's the first thing that you have to do to ensure you land the job? Yes, you check your resume and see whether it's up to the mark or not. But, what if you don't know how to make your resume stand out from hundreds of other candidates? You use a good-quality resume writing service.
With so many resume writing services available online, it is hard to choose the best one. We are here with the review of Zipjob resume writings service that has lots of positive reviews online. Let's get started.
Service Review
Zipjob resume writing service is an online resume writing company that helps write perfect and remarkable resumes that help people in landing the jobs they desire. We came across many positive Zibjob resume writing reviews and even articles in Forbes that applauded the innovative approaches the writing uses in providing you with the best possible service.
If you look at the profiles of the writers available on the website, you will see that they look quite credible and professional. We checked the writers' information thoroughly and found several LinkedIn profiles and even professional blogs by the writers, which adds to their credibility.
Topresume vs Zipjob
When using Zipjob, you provide your information either by uploading your old resume or entering the details yourself. After this, you will be assigned a competent writer who makes all the necessary changes to your resume or creates a new one for you. Your resume will be scanned through their Applicant Tracking System to ensure you are getting a perfectly optimized resume. You will be able to download the resume by your deadline.

While using Topresume, you have to provide your payment information first even before you provide your personal details. That seems a little weird, doesn't it? After you are done with all the information, you get assigned to a writer who writes your resume for you.
Zipjob is better than Topresume when it comes to filling the order form since you can be more specific and provide specific instructions. Moreover, your resume gets checked through the ATS before you get the final version.
When it comes to prices, Topresume is more expensive than Zipjob, even though the packages of both companies provide similar services. The premium package at Zipjob costs you around $299 while the same executive priority package is available of Topresume for $349.
Both Zipjob and Topresume allow you to view samples on their website. However, there is an option on zipjob that allows you to compare the before and after versions of the resumes. The samples present at Topresume are good but are rather boring and generic.
The Zipjob ratings from customers are higher as compared to the Topresume ratings. If you are going to use a resume writing company, we would recommend Zipjob.
Pros and Cons
Let's take a look at the pros and cons of Zipjob resume writing service.
Pros
Good online ratings
Modern website
User-friendly Interface
Affordable prices
60-day interview guarantee
ATS screening
Easy and secure payment options
Unlimited number of revisions
Good bbb zipjob rating
Cons
No discounts
You have to buy a complete package and not a specific service
Guarantees
With zipjob, you get an unlimited number of revisions if you are not satisfied with your work. Moreover, if you don't two times more interviews within the 60-days period, you will get your resume revised again and tailored in an even better way.
Moreover, the writers the company employees are all U.S. based and have to experience in the field of resume writing. Furthermore, you get a zipjob guarantee that your resume will have specific keywords that will help you land the right job.
Services
With zipjob, you get three types of packages and services:
Launch resume
Fast-track resume
Premium Resume
With launch resume package, you get keyword optimization, an unlimited number of revisions, and private communication with the writer. If you choose the fast track package, you will get a 60-day interview guarantee, and you will get a cover letter as well.
The Premium package offers you a fast 3-day delivery, a LinkedIn update and all of the features mentioned above. You get zipjob free resume review if you are not satisfied with the work that was provided to you.
You can't order a simple resume or cover letter from this online service. You can choose from any one of the options mentioned above. Thus if you want to a cover letter, you will also have to pay for other features that are present in the package that includes cover letter services.
Support
You can contact the resume writing service either via email or their live chat support. You get a response for your email within 24 hours, but personally, we prefer live chat support option because you get a response within minutes and you can get your answers to your queries.
Conclusion – is ZipJob Legit?
When we use online services, we always question their safety and security. Many of you would be asking the question "Is Zibjob safe?" the answer to your question is: Yes. Zibjob is a legit resume writing service that provides excellent services at affordable rates. You can choose from one of the packages they offer and get a stellar resume that will help you land job interviews.
FAQ
What is Zipjob?
Zipjob is a quality online resume writing service. They provide you with top-quality work at reasonable rates. Moreover, you get a guarantee to get 2 times more interviews within a 60 day period than the number of interviews you'd get with the help of a normal resume.
Is Zipjob reliable?
We are always scared when it comes to the legitimacy of online services. With Zipjob, you don't have to worry since it is a reliable service. Your personal details, along with the payment information you provide, are safe and secure. You can read their privacy policy to know more.