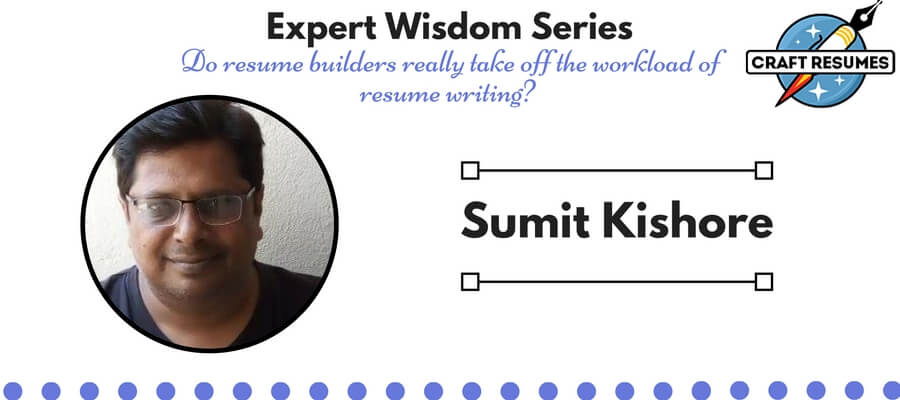 Resume Expert Wisdom: Interview with Sumit Kishore

As a part of our discussion "Do resume builders really take off the workload of resume writing services?" we contacted Sumit Kishore the Career Coaching Expert and asked him 5 questions.
Why resume builders apps are so popular nowadays?
Resume builder apps have been around for some time now. It automates some of the monotonous parts of creating the resume. Some even allow importing an existing resume to make things simpler. However, the bottom line is that the content has to come from somewhere.
Again, as said, as automating the resume writing process makes it a breeze to create a resume. However, my experience with such builders has not been good. They give you great templates, do the formatting for you, but the fact is that somewhere you have to create that content. Since the time of resume templates to resume builders now, there is some need of personalization. Moreover, you still need to decide what kind of resume to use for which profile.
Automation or no can be a big debate, but resumes are a typical marketing tool for a person looking for a job. We need to create a resume that gets him the required calls. And the downside is that best online resume builder come with a price that I may rather pay to a great resume writer to create custom resume for me, along with a cover letter, which a resume builder may not do. We need to ask ourselves whether we want to create a resume factory, or do we want job winning resumes that require due diligence on the part of human beings.
What are 3 main points career coaches can do – resume builders can't?
Let's first get it clear what a resume does, and what the job of a career coach is. Resumes are the faces that an individual presents before the hiring organization or the hiring manager. The main point of circulating a resume is to sell the fact that the concerned person maybe a good candidate for the job advertised, and make the hiring manager feeling it worth to call him for further discussion.
On the other hand, a career coach, through continuous engagement molds the student for future success by imparting whatever training the candidate requires. So, while the skills and qualifications mentioned in the resume are created by the professional resume writer, these skills have in part been created by the career coach, or through some other means. Normally, it is not the job of a career coach to promote his protégé.
Hence, we see that resume builders and career coaches have different roles to play in the success or failure of a candidate.
What are the most common misconceptions about career coaching job?
The term "career coaching" has gained predominance in the last few years. Normally the term coaching was thought to be mostly related to the field of sports. In academics it was referred as, and is still referred as training for the students to crack any exam, or normally career counseling or guidance. Frankly, there is a lack of clarity on what career coaching entails as it is relatively new and as almost coaches in all areas have sprung up, most of whom are not even certified by any relevant agency.
Career coaching is a onetime job
Career coaching, like mentoring, requires continuous involvement. A career coach is looked upon by the person as a go to person for all his career needs, sometimes even his personal needs. Not only this, the career coach on his part may need to follow up with his student to see if the things are on track. It is also his job to see that the person concerned is motivated and feeling happy with what he is doing. He has to make sure that the student is making the desired progress, and has to rectify the situation if that is not happening.
I have 25 years of experience in industry. I can be a career coach.
Not necessarily. Career coaching is a separate area in itself, and may require specialized skills to perform related duties. This is not to discourage you, but if you are really interested, you may get some credible certifications and degrees before you take a plunge. If you look at the profile of most of the career coaches, guides, and mentors they would already have some qualification in education or coaching. Even if you do not want to pursue a university degree, there are a lot of globally accredited bodies that provide universally accepted certifications. Moreover, you may want to start with teaching in community colleges based on your experience. It will definitely give you an edge.
Career coaches can train anybody for a profession
There has been a growing perception that not everybody can be trained for all professions. This is slowly becoming an old school of thought. This is also suggested by some career coaching experts who take the help of some sort of psychometric tests to find out the interest, ability and personality to point out the top 3-7 most rewarding career for a person. Psychometric tests are nothing new, but now they are being rewardingly employed to find the profile of the person and suggest the best career choices for them.
Career coaches are not required for people already in a job
Career coaching is spread over a wide spectrum of professions. It means getting a person prepared to be successful in his or her career of choice. Normally, it is thought that a person who has already started the career may not need career guidance or coaching. But this is far away from truth as there are a whole lot of people caught up in unsatisfying, unfulfilling jobs. There have been a lot of misfits across professions, who even quit their job midway despite all the training or knowhow they may have. Hence, the help of career coaches may be required at all steps of career journey.
Lastly, Career coaching is a FAD that is just a bandwagon for few
Career coaching has been there in bits and parts since ages. There have been educationists, counselors, guides, and the duties they performed have changed with the progress in educational technology. Again, the area of career coaching has different shops with their own philosophies and ways of doing this. People must be seeing some value in it as some of them are doing really well. So, let's not just write it away, and see how things progress.
What can the average person expect to get from working with a career coach?
The first and foremost job of a career coach is to identify the innate skills of a candidate. This can be done using experience, or by different tests that are available. A good career coach should be able to upfront tell the skills the candidate should be honing. These skills are normally the ones the candidate is naturally good at. Of course, a good coach should also be able to highlight to the candidate about the chances of making a livelihood using that career.