Nanny Resume Examples & Samples, Tips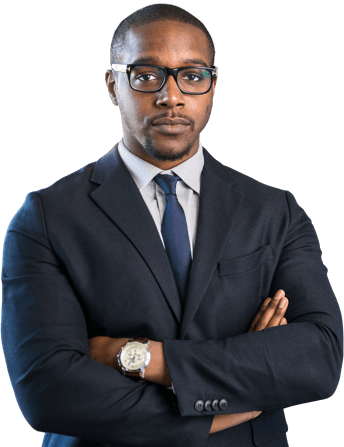 When writing a resume for a nanny position it's important to put yourself in the place of a parent. Putting trust in somebody to mind your children is difficult, they want to be assured that person is careful, trustworthy, kind and will be a good fit. After all, you will be spending most of your day together. Obviously, an interview is very important in a nanny job, but your CV needs to stand out from the crowd, too. Below is a good base for any nanny resume sample. It highlights key skills and all previous work experience.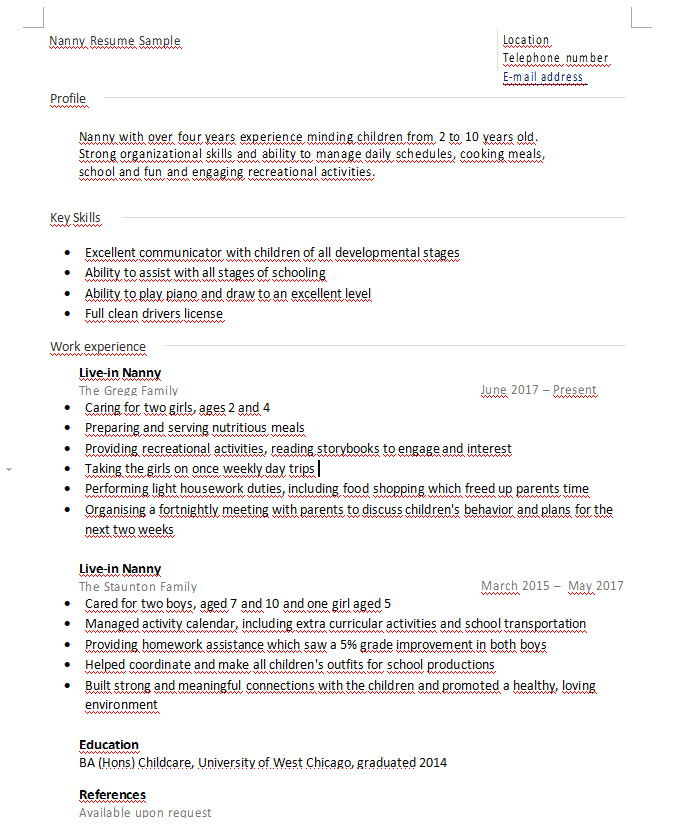 Nanny Job Description Resume
The key points listed above are a good starting point for any nanny resume sample. The best nanny resume will include everything a parent wants to know, this means how you can benefit them. If you have a car you're a brilliant asset because you can help with school runs. Be sure to include any certificates you may have on your resume too, like cooking or special needs etc. Also, highlight subjects you can tutor in if you have a strong subject like maths etc.  The key skills potential employer looks for in a nanny are – leadership, multi-tasking, and creative elements. Put these skills on your CV, as illustrated above and you'll be sure to stand out when there's a decision to be made.
Nanny Duties Resume
If you have no previous nanny experience how to put nanny on a resume can feel a bit daunting because you might feel like you don't have what it takes. Don't fret. Being a babysitter and having a hobby that can benefit children is sometimes all you need. Write a strong cover letter about why you want to work with a family and how you can enrich their children's lives. The best nanny resume sample is one that shows how passionate you are about children. If you're brilliant at art suggest an art class with the children. Or if you're creative and love singing suggests a daily sing-song and drama class. It shows that you are eager and want to help not only with practical duties but fun, so the kids will be happy in your company.
Nanny Responsibilities on Resume
Nanny responsibilities include Childcare, in-home care, light housework, activities, homework assistance, meal prep, and bathing etc. for younger children. Make sure to highlight all these skills on your CV, if you have them of course. Families want to know that their nanny can take care of any task. Knowing their kid's homework is getting taking care of with ease is a huge benefit, similarly to knowing they are getting the right number of vitamins and minerals in their diet, and their nanny knows how to keep them entertained, too. All these responsibilities should be mentioned numerous times in a CV. Again, if you have no nanny experience think about how these responsibilities play into your everyday life, maybe you have brother or sisters that you mind. Our free resume builder online can also help if you are struggling to put together a CV or aren't sure how your experience relates to the job.
Nanny Resume Objective
It's simply, you want to be the friendly, all-rounder that parents and kids will love and trust. How to make nanny sound good on a resume is easy if you are confident in your skills and abilities. Our cheap CV writing services can also help you to turn what you have into a first-class nanny resume sample. If you're thinking 'help me write a cover letter' or 'how will I make my skills and experience stand out' then our service like our professional LinkedIn writing service is what you need. We know how to structure the perfect CV to catch any parent's attention and make you their ideal candidate. If you feel overwhelmed by the idea of putting together both a great cover letter and CV, tell us some of your experience and we can take it from there. Our CVs are of the highest standard and customer satisfaction is, and always has been our main aim. Our tips and tricks are great for drafting CVs yourself but if you don't have the time or want some advice then our resume writing service is the perfect way to take the stress away from getting that new job.