Social Media Marketing Manager Resume Samples | Examples
A career in social media is promising, creative, and rewarding. Whether you want to develop your social media coordinator, analyst, or marketing manager skills, knowing what to put on your professional resume can be tricky. Knowing what way to format it can also be time-consuming.
We've put together a small guide below for all social media resumes. Putting together the proper resume for media jobs is hard, but our list gives a breakdown of what to include and some tips and tricks to help you and your future social media career.
Social Media Marketing Skills for Resume
Highlight your essential social media skills at the top of your resume
This means potential employers can see why they should hire you at a glance. Employers will be looking out for campaign management, creation, execution, and experience in the relevant social media analytics.
Having your critical skills at the top of your resume is a brilliant way to get an employer's attention and encourage them to continue reading your resume. The skills list can be simple bullets or give a little more detail, whichever works for you.
Know your social platforms and tools
Managers want to know that you are up to date with the latest social media management tools. Show them you know how important planning is for any successful social strategy, and show them why. If you don't have experience using all of the planning tools, familiarize yourself with the platforms before applying for any role. The most popular social media management tools are Hootsuite, Buffer, Sprout Social, Tweetdeck, IFTT, and Later.
Know the importance of analytics
Make sure to highlight that you have experience in social media scheduling and management, but you also know the backbone of any good social media is analytics. Analytics show if a campaign is working or isn't and is crucial for understanding good social media and how to build on or improve social strategies.
Include analytics in your critical skills and research popular analytic tools such as Buzzsumo, Tailwind, Google Analytics, and Brandwatch. Please show them what you can do for them!
You might have all the experience in the world, but has it been effective? Make sure to include how you have benefitted a company with your skills. Highlight the critical successes your social media management has brought. They want the big numbers. Show them examples of your work, its impact, and how it helped grow a brand or how helped company objectives. For example:
The social media campaign increased page likes by over 50% and grew engagement with the page by 22%.
Social Media Coordinator Resume Sample Guide
Don't worry if you don't have all the skills just yet. Everyone has to start somewhere. If you are applying for a social media coordinator role and are just out of college or looking for a career change, research the role and use any relevant experience to help leverage your resume.
For example, if you love what a brand is doing on social, talk about this in your professional cover letter. Why do you like it? Is it the excellent copy, video resume style, and how the brand talks to its customers?  Show that you understand the importance of good content and are eager to learn more.
Use your personal experiences. Do you have a personal blog? Or were you involved in any university societies, and did they require any social posting or writing? Read the job description carefully and try to relate all of the points to your skills.
Professional Social Media Analyst Resume
If social media analysis is more up your street, make sure to highlight you're knowledgeable in quantitative and qualitative research, SEO, and the analytics systems mentioned earlier in the article. It would help if you showed a potential employer that you know how important research and media planning is and how it impacts making better social media campaigns. A social media analyst's resume should highlight experience in putting together well-researched reports and using these reports to make future campaigns better.
Digital Media Specialist Resume Examples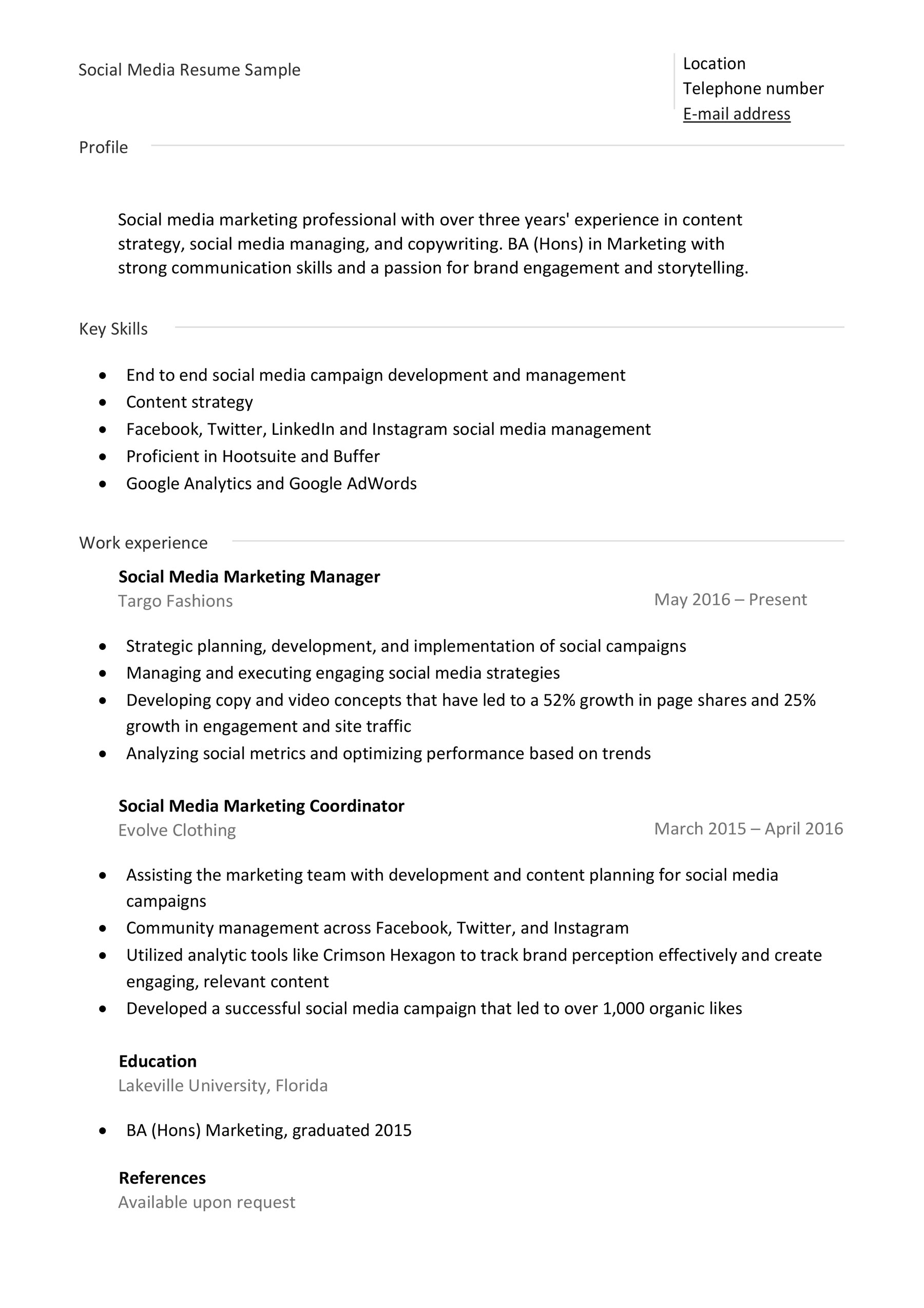 So, you're almost there.
Please show your critical social media skills, use social media jargon (think implement, deliver, analyze, monitor), know your social media platforms and analytics, and show them you're a media specialist. Be excited by what the company offers and what you can bring to their social media strategy, and your resume will undoubtedly stick out in the crowd.