Cover Letter for Medical Assistant Job Position - Samples & Examples
A medical assistant plays an important role in delivering exceptional patient care. Working as a medical assistant can be extremely rewarding and is an extremely popular job. Due to the popularity of the job an excellent resume and cover letter is needed to stand out from the crowd.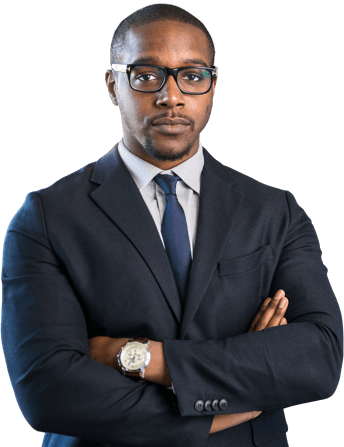 When applying for a medical assistant role a cover letter should include the relevant certificates you have, the skills you have developed in your career, your ability to communicate effectively and key achievements you have accomplished. Highlighting these will show a potential employer that you are competent and makes a difference when putting together a good medical assistant cover letter.
Not sure where to start? Our cover letter writing service can help draft a cover letter for any type of medical assistant role, no matter what your experience.
Certified Medical Office Assistant Resume Cover Letter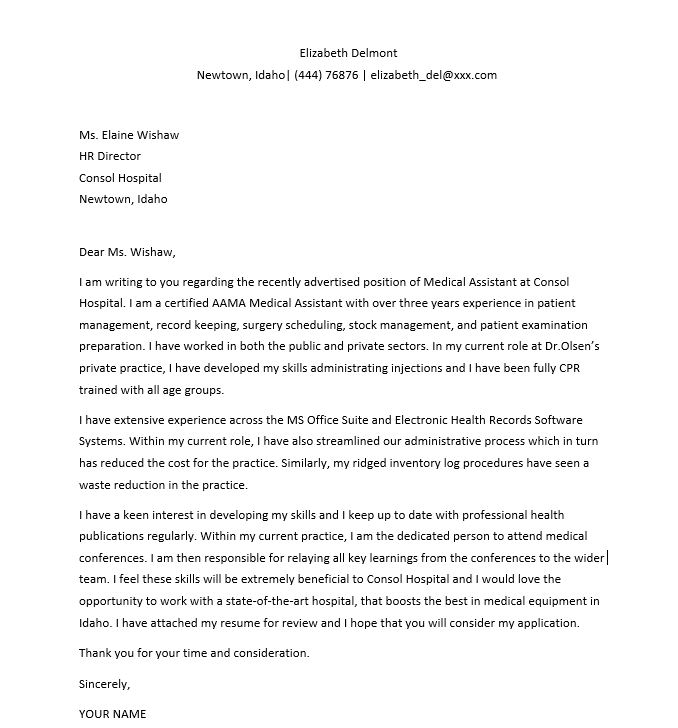 The above template works for someone who has experience in the medical assistant field and can be used as an administrative assistant cover letter guideline also. It is important to show an employer all key skills in a cover letter. A resume should then develop these skills and go into further detail on time spent at certain jobs, and specific day to day tasks undertaken previous jobs.
Medical Assistant Cover Letter With no Experience
Having experience in a medical assistant role is no doubt advantageous, but it doesn't mean that anyone who doesn't have experience isn't suitable for a medical assistant role. A lot of the time hospitals and medical practices will be looking for entry-level positions to be filled. They are a great chance to get a foot in the door with little or no experience. While these positions might involve more admin focussed tasks initially they are a good starting point for someone looking to enter a medical assistant role. When applying highlight why you want to do the job and any extra credentials you might have, like CPR training or basic life support training. Also talk about why you want to work for that particular practice. What is it about the practice? Are they innovating in any way? Or what draws you to them? Showing a true understanding of the work they do and the impact it is having will let your future employer know that you are passionate about the role and passionate about that practice, which is a big bonus.
If you'd like extra help our professional cover letter writers can draft a cover letter that shows your skills and talent, and how they are related to the medical assistant role you are applying for.
Medical Assistant Cover Letter Entry Level and Externship Examples
If you are a recent graduate and want to apply for a medical assistant role; open your cover letter with the degree you have just graduated in and the skills you learned in this degree. Talk about the various modules you needed to undertake and bring this back to the role you are applying for. Almost any degree discipline can be useful for a medical assistant role as long as you can tie it in with the relevant requirements for the job being advertised.
Completing an externship is also hugely beneficial to a medical assistant entry-level role or a medical assistant at any level. It shows true dedication and drive. An externship is essentially a job shadowing program so a person can see what working as a medical assistant is like. You can follow a medical assistant and observe their day to day work schedule. You also get the opportunity to help out with some of the smaller tasks. Completing an externship is an exceptionally attractive feature because it shows that a person has taken time out of their own personal lives to help propel their career. An externship can be arranged by contacting local practices to see if they accommodate the service. If you have completed one, make sure to include the experience in your cover letter and give details of the role. For example:

Opening a cover letter with your qualification immediately shows a potential employer that while you might not have work experience your degree is relevant to the field. Similarly, by highlighting the skills gained during an externship at the beginning of a cover letter a potential employer knows if you are capable of the job they are advertising and will be encouraged to keep reading. Make sure to give as much detail on the type of areas you specialized in, if relevant.
Still Like Some Help?
If you're still not sure how to piece everything together our write my cover letter service allows you to buy cover letter that expertly references all your relevant skills in a clear, concise way that's ideal for attracting potential employers. We can take anything you send us and draft it into an excellent cover letter. Our team of writers all have extensive experience in recruitment agencies so know exactly what is required to help ace that initial step and secure an important interview.
Our medical resume writing services can also help craft a professional resume for any medical assistant role.
If you're in the process of applying for jobs but aren't sure where to start or even where to find the jobs you want Indeed has an excellent range of medical assistant roles advertised from all around America and includes all levels of expertise.
The AAMA is also an excellent web page for kick-starting your medical assistance career. There's lots of information on how to register and study for the AAMA exam as well as tonnes of useful blog posts on medical assistant roles.