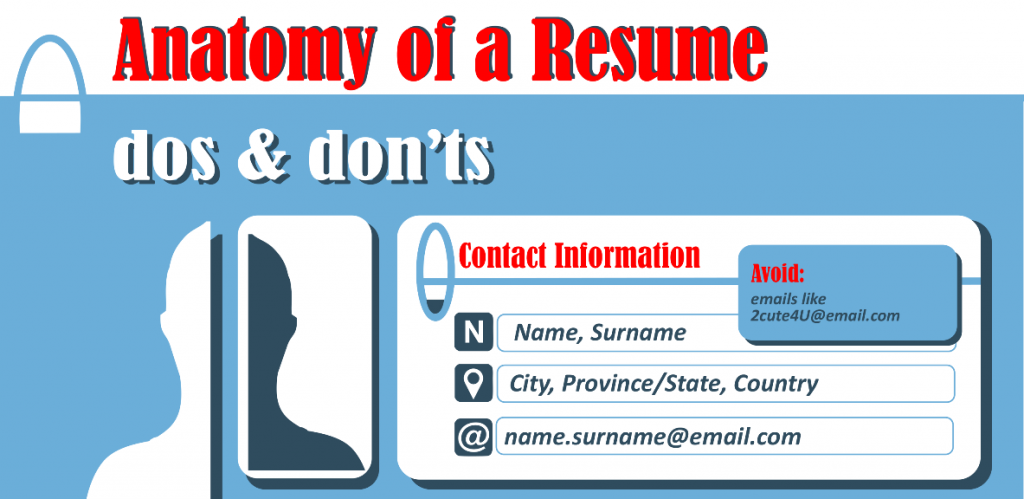 Resumes
Anatomy of a Resume, how to decode and understand
Share this infographic on your site!
Embed this infographic on your site!
Contact Information Section
Name: Mandatory information right? Believe it or not names can create complications. Make sure you use your Legal Name, if you have a name that is hard to pronounce, put the short form for your name on your resume.
Address: The full address is phasing out of the resume structure, it's becoming increasing common to simply put your City, Province/State and Country.
Contact Info: Put your most relevant phone number and email. Keep your email address formal, with your first and last name, try to avoid emails like [email protected] or [email protected]
Profile vs Objective
Which one do I use, profile or objectives? This section often creates the most confusion. Here are a few guidelines to help determine what to choose.
Objective: Best for young professionals and industry transitions. The objective section states what you are looking for. Avoid statements like "Looking for an opportunity to advance my career skills in a position as a Customer Service Representative." Instead try something like "Customer Service Professional with over seven years' experience providing excellent customer experiences, looking for an opportunity to join an organization that places strong values on team collaboration and professional development." Tell a strong fact about yourself, then mention something about the organization.
Profile: The profile is ideal for people who have been in the same line of work for 3 or more years, or who have shown a steady progress in their career. Keep it interesting with two to three sentences of the most impressive industry details. Feel free to add in strengths you have and specific characteristics. You can even take it a step further and state any awards you have or accomplishments if they relate directly to the job you are applying to.
Professional Skills Section
This is the chance to shine! Employers want to see what you can offer them in the first three quarters of the first page! Some employers might not even go to the second page if they don't see what they need!
Here are some tips to make this section standout;
Keep it relevant and unique. Look at that the employer is looking for and state how you can meet those requirements in your own words.

Use only one bullet point for communication skills, team work and anything related to these skills. Also, keep only one point for skills like organization, detail oriented or anything related! These things can become over used and pretty soon your resume will sound and look like the rest of the applicants!

Have knowledge of a topic, but have never performed it at work? Create a section for it with a combinational resume. This also works if you are new to an industry. Rather than one Professional Skills section, you have 2 to 4 topics with the supporting info! Very much like a research paper outline.

Use numbers, especially if it's a sales or numbers related job, give one to two impressive examples.

Have education or a course that the employer is looking for specifically? Put it in the professional skills section.
Areas of Knowledge Section 
This section is the perfect place to put industry keywords that will allow you to be found in an Applicant Tracking System (ATS) and will allow the employer to directly see what you are an expert in. More on this here
Technology and Software Section
This area is suitable for positions that have mandatory requirements for specific types of software. If you only know Microsoft Office, simply include that in your Professional Qualifications.
Professional/Work Experience Section
Keeping this section organized and simple, yet detailed with the right information will give you a leg up against the competition. When listing work experience the must haves are the Company Name, Position Title, City, and Start and End Dates.  You should have six to eight solid points to describe what you did – just make sure that you do not repeat the professional qualifications section.
Include numbers and percentages in the top points, then followed by what you achieved or did.

Avoid statements like "Worked in teams and demonstrated excellent communication skills", you are much more impressive than that!

If you mentioned something in the professional qualification section that is important, and pertains to this position this would be the time to be more specific on the details.
The formula for writing the best statement is PAR, Problem Action Result. Write the statements in this formula and you will clearly show your capabilities.
What to not include in the Professional/Work Experience Section? Job and company description, keep the focus on what you did, the duties will describe the work you did.
Education Section
This section can be come over complicated if you are not careful. Simplicity is the key, List the Degree, School, City, and Year Completed. Have an impressive GPA, Thesis, Publication, or course you completed? Write it below the degree, avoid going into description and writing the course description. If the program isn't complete yet write the year as "Expected Graduation [Year]". Once you have completed your post-secondary education, remove the high school diploma from your resume.
Have a program you didn't complete? No problem, all education has value, add it in but use the word Program rather than Degree, Diploma or Certificate.
For any courses, certifications, licenses or designations create a new section, list the course, issuing authority, and year completed.
Volunteer Experience
Volunteer experience is important, it is valuable and has a positive impact in society. Chances are if you are a recent grad you will have lots of volunteer experience. If it's relevant to your career, list it as a job. The only change you could make is to mention volunteer or intern next to the position name. If the volunteer work is not related to your career, then create a simple volunteer section and limit the description to one or two sentences.  The volunteer section is also great if you are looking to make an industry change and don't have any paid experience.
Things to Avoid 
Personal Interests Section

References avalaible upon request or references section – Only provide references if you are asked. 

Pictures, date of birth, blood type, marital status, Children's and Parents Names – these are required in some countries, if applying abroad check the CV and resume requirements for the country.

Limit the use of "Responsible for" or starting a sentence with I, We or Our!

More on this here