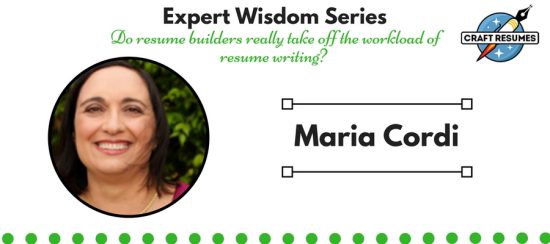 Resume Expert Wisdom: Interview with Maria Cordi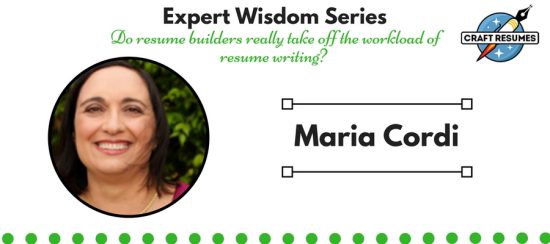 As a part of our discussion "Do resume builders really take off the workload of resume writing?" we contacted Maria Cordi the Career expert and the founder of www.mynewcareercoach.com and asked her 5 questions.
---
Why did you start your coaching career?
I went into post graduate studies in Coaching as an extension to my undergraduate studies in Psychology. Coaching Psychology was a new field that encompassed all I was attracted to in Psychology, namely Positive Psychology and Self-Development. I enjoy helping people make positive changes in their lives, and the area that I am most experienced in is Career Coaching.
What are 3 main points career coaches can do – resume builders can't?
Career coaches are most useful in assisting in the process of identifying what their clients are really wanting in their careers. They are also able to help in weighing up their career goals with their life-balance issues. And often the most important aspect is the support and accountability that comes with working with a career coach. Just like you might hire a personal trainer to make sure you don't give up your fitness goals, a career coach won't let you be complacent about your career goals.
Do you recommend to use best online resume builder? Why?
I would recommend using a Career Coaching and the best resume writing service that is knowledgeable of your industry and in the home country in which you wish to work. They will be familiar with what is culturally expected and consistent, as well as providing a professional outcome.
What are the most common misconceptions about career coaching job?
The most common preconception about Career Coaching is that people sometimes come to me expecting me to tell them what to do in their careers. That is, what career to choose, jobs to go after or whether to stay where they are. Instead it's all about my helping them figure out what they themselves would like to do. My job is to support them and keeping them accountable to their goals.
What can the average person expect to get from working with a career coach?
As in the above answer, it's the job of the career coach to provide support and help their clients be accountable to their career goals. (That they themselves have chosen, not their coach).