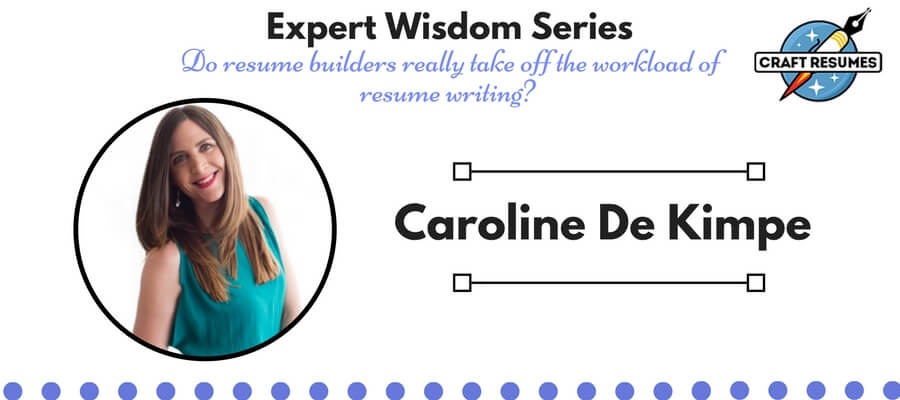 Resume Expert Wisdom: Interview with Caroline De Kimpe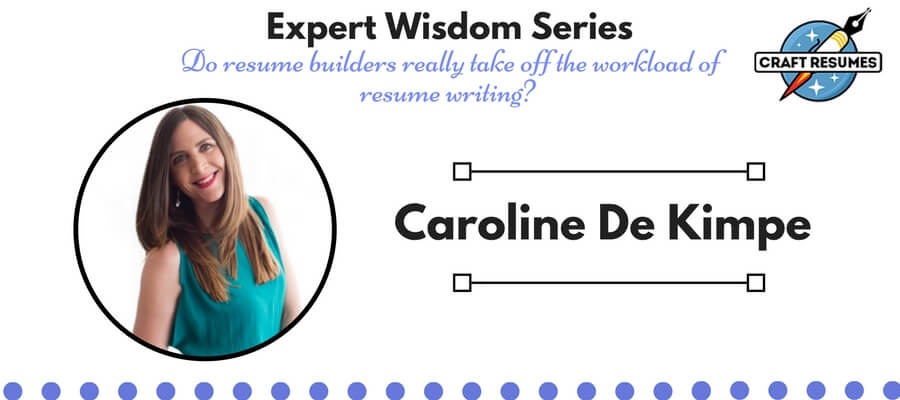 As a part of our discussion "Do resume builders really take off the workload of online resume writing services?" we contacted Caroline de Kimpe the Career Coaching Expert and founder of newhorizoncoaching and asked her 5 questions.
Why did you start your coaching career?
I noticed people were struggling with their job search. Whether they were applying for jobs and not getting interviews or going to interviews and not landing the job.
As a recruitment specialist I coached all my candidates so they were able to get the interviews and ended up landing the job. I got a bit obsessed to find out why hiring managers would pick one resume over the other to interview. And I got really good at guessing which candidate would be invited. I started asking candidates to change their resume before applying and as a result they got interviews.
Four years ago I decided to start up my own business (New Horizon Coaching.com.au) to go deeper and help more professionals by sharing my knowledge and expertise.
What are 3 main points career coaches can do – best resume builders can't?
Making sure your words aren't just a bunch of words on a piece of paper. That they are authentic and reflecting who you are, what you do, and most importantly, what your added value is.It's making sure your resume reflect your unique value proposition.Career Coaches help you position yourself for your ideal job and career by challenging you to think differently about what you have done and achieved.We draw out things you don't think off or you assume because you believe everyone does it that way.We help you articulating your key message and that's what makes you stand out amongst other applicants
What are the most common misconceptions about career coaching job?
Career coaching is airy-fairy and not practical. I can't speak for others but when I work with my clients, they end up with specific results. in the case of resume coaching, it's even very tangible.
Career Coaching is expensive. I do understand why people say this however, if you see the bigger picture the cost you pay a career coach is irrelevant. You'll be able to send a resume that gets you interviews, you'll learn to master interview techniques that land you the job. Simply said, a next pay check easily pays for what you invest in a career coach.
What can the average person expect to get from working with a career coach?
So much! They get clarity so they can identify their essential skills and experience. This is important as most of us list everything we have ever done on our resume. It's like a list of ingredients but you have no idea of the recipe ☺They'll also be able to create an authentic personal brand that sets the tone of their future job and career.And lastly, they'll be able to articulate on their resume and in an interview exactly who they are and what their added value is.When I work with clients we really dive deep in discovering how they want to position themselves so we can build a brand around that. The "brand" being your LinkedIn profile, the resume, cover letter and customised interview techniques.
Do you recommend to use resume builder? Why?
Yes. They offer a brilliant framework with all the essential elements. However, having a solid layout is only half of the equation. The other part, equally important, is writing killer content.
Having generic content in and awesome format is not going to work and stand out.